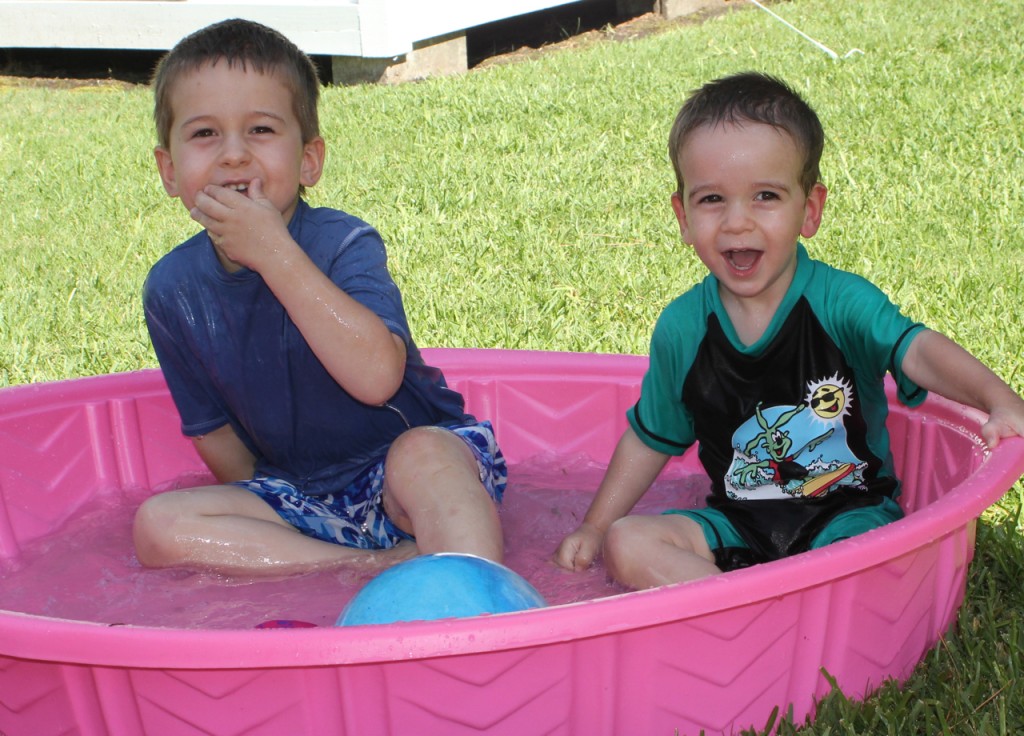 We attended a birthday party this weekend.  My wife's best friend from high school and maid of honor in our wedding was celebrating the 1st birthday of her daughter. It was a fun time catching up with old friends and watching the kids play. We were the only the only other family there with kids and they told us to bring bathing suites for our boys. We knew the pool would be just like to one our two youngest boys are shown playing in above. And our boys loved it. As I watched all four of my boys play in this little pink swimming pool it reminded me how the simple things really can provide a ton of fun. Our boys laughed and played for at least an hour and the water was no deeper than about four or five inches even when all of them were int he pool together.
The pink pool scene reminded me of some pictures my wife shared with me from earlier in the week. Our boys had been in the back yard playing in the dirt and getting filthy. She decided to hose them off before bringing them back into the hose. Then she accidentally discovered how much fun a two year old could have with nothing more than a plastic container, a spoon, and a toy truck. Our little Levi sat for over 30 minutes scooping water from this bowl and dumping it on himself and into the bucket of his little toy dump truck. It was truly amazing how content this little boy was with such simple things. It was sort of like the cardboard box thing. You know when you buy you kids an expensive big toy only to find that you could have gotten way with just brining home an empty cardboard box.
Sometimes the simplest things are the best. What simply things will be entertaining your kids this summer?