Firing a rifle for the first time is one of the most treasured memories that many men carry for the rest of their lives. Water cooler or camping conversations between men often revolve around the subject of first experiences with a gun. It is one of the early steps in teaching young boys how to literally kill it and drag it home. Men in the USA provide for their families today primarily by earning a direct deposit paycheck that goes into a joint account that their spouse uses to gather meat, bread, fruits, and vegetables from the local super market or grocery warehouse. Even still, many boys and men long for the hunt. And the hunt begins with learning some skills.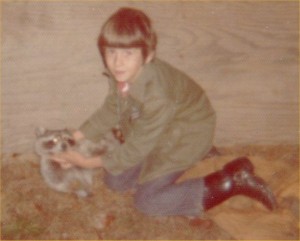 Today I was able to give my son that first gun shot experience as he became the fourth generation to fire this rifle. I don't know for sure if anyone in my family fired this rifle before my Papa (i.e., grandfather). But we do know that this model of Winchester 67 Rifle began being manufactured in the early thirties so it is possible that Riley could be the fifth or sixth generation in our family to fire this same weapon. I also know that I used this rifle to kill my first wild animal (Raccoon) as a young boy when I was near Riley's current age of nine.
Fear of Gun Sounds
While this event did plant a lasting memory in my son's mind, and he thoroughly enjoyed it, I also had a ulterior motive. You see, Riley has a fear of loud sounds. He is not afraid of guns, but the loud noises that some guns make. I plan to take Riley to his first NASCAR race later this year as a birthday present and I want to make sure that his fear of noise does not prevent him from enjoying the race. I mentioned Riley's fear of noises in a guest post I did on Childwise Chat about Childhood Fears. I explained how my wife and I dealt with what seemed to be an irrational fear with one of our other boys. Today allowed me to work on understanding more about Riley's fear while also desensitizing him to loud sounds. The day was a success because on this front because Riley did not complain about the noise and he clarified that his fear is more of sudden loud noises and not so much the loud sound itself.
We went to a public firing range in the Francis Marion National Forest about an hour from our home. We joined some of my Navy co-workers and their family members. At the range there were folks firing everything from .22 rifles, to .45 caliber model 1911 mil spec handguns (my personal favorite concealable cary handgun), to shotguns, to high powered hunting rifles. As you can see Riley did pretty well on his first day at the firing range as you can see below. The green circles are his hits with a little assitance from me with the aiming on a couple of them.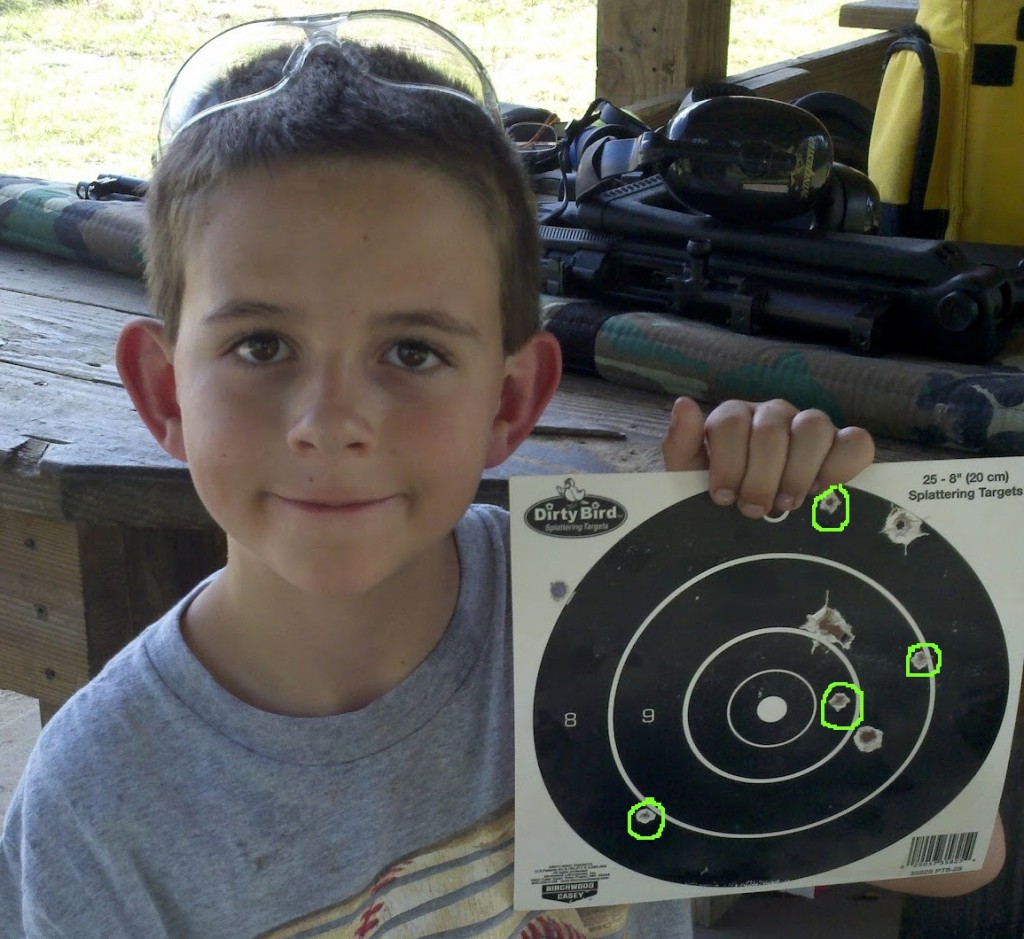 Riley had fired a BB Gun before at a Cub Scout day camp, but this was a whole different deal. Riley said he liked shooting the rifle, but he would rather do it somewhere that does not have all the loud handguns and rifles next time. I am going to work on finding a friend who has a little land in the country that we can use the next time we go to target practice.
As I was completing this post I ran across a news story about a 14 year old boy who shoot an intruder during a home invasion. The 14 year old was home watching over his three younger siblings. Given the way this young man handled himself I am inclined to believe he must have had plenty of exposure to guns and training on their proper use. Some adults would have had a hard time handling that situation. I am also glad the intruder was not fatally injured. Taking the life of another human being is tough no matter how old you are and regardless of the circumstances.
What is you opinion of kids learning to use fire arms safely?