By Maureen Monfore, http://www.ChildwiseChat.com
A couple weeks ago, Hank blessed us with a blog post about what dads want moms to know. I figured I would offer dads the same courtesy, unlocking the mystery behind every mom's (or wife's) approach to marriage and parenting.
Sometimes we just want to complain
It's common knowledge that women like to vent and men like to fix. If we vent to you about our day, don't offer solutions. Just listen. Even throw in a few lines like "I can't believe he did that," or "That's crazy; how in the world did you cope?" Show some sympathy and commiserate with us. For a few pointers on how to listen well, eavesdrop on our conversations with other women. It might sound like a foreign language to you, but jot a few lines down and you'll be fine.
Don't take our lack of affection personally
Yes, this is something many moms need to work on. But dads need to know that our occasional lack of desire for physical touch has nothing to do with you. Those of us at home all day with our kids get enough physical touch by the time you get home. Our kids climb on us, sit on our laps while reading, play with our hair, follow us to the bathroom, and even ask us to open the peanut butter jar while we're in the shower. (I speak from experience.)
What can you do? Give us a few minutes to ourselves. Force us to take some time away; we might not always think we need it. But some well-deserved alone time will help us recharge our batteries. Call it room time for moms!
We need reminders if life gets a little too child-centered
Dads have a very different perspective on the world than we do. You get out in the world and have real adult conversations with real adults. When we're at home with a two-year-old who's in the throes of potty training or a four-year-old who complains about his boo-boos, we forget what that's like.
We are all too aware of the dangers of child-centered parenting (thanks to the Ezzos), but knowing and doing are two different things. And rather than flat-out telling us, schedule some adult time for us. Hire a sitter. Call up some friends. Make dinner reservations. Get us out of the house!
We might get a little bossy sometimes
Face it, we moms boss our kids around. It's as it should be. Our lives would be complete chaos if we didn't. But sometimes, after doing it for 10-12 hours on end, we get in the habit of being bossy. If we're working on first-time obedience training, we might even wait for a "yes, mommy" and eye contact when we call your name. (Not really, well, maybe.) A simple "snap out of it" should suffice if you recognize our bossy tone. Or turn on the humor, and reply with "yes, mommy."
Encourage us to get some sleep
The parenting experts tell us to sleep when our baby sleeps. But how in the world would we get anything done?! Whether we're up all night with a newborn or physically exhausted from a day chasing after toddlers, we need our sleep. And for many of us, a lack of sleep affects our mood and our patience.
So if you see that we're up past midnight, tell us to go to bed. Or if you see that we're physically exhausted, tell us to go rest in bed for an hour. If that doesn't work (because not many of us want to waste 2 hours napping while there's so much to do), tell us to have some room time.
By the same token, make sure you're getting enough sleep. Nobody wants to deal with a tired, grumpy you.
Give some thought to your body and your health
If we're going to stop being bossy, you can't rely on us to tell you to eat your vegetables or to cut back on the cookies. This came up on a Babywise moms message board recently. We want you to care about your health. If you think something is wrong, go to the doctor. If the doctor tells you to cut back on your salt intake, drink more water, or to exercise more, listen to him (or her)! No mom wants to be a young widow. We are nothing without our health. Take it seriously.
On a related note, think about how you present yourselves to us. Yes, you are allowed to relax when you get home. But that image of you lounging on the couch in your sweats with a package of Oreos does nothing to improve our desire for physical touch. If you notice that we brushed our hair and put on a little lip gloss before you got home, think twice before putting on your pajamas at 6pm.
Limit your screen time
Yes, this is something we say to our kids. There's a reason we don't let them watch TV or play video games for hours on end. But we adults need to follow the same advice. Smartphones, TVs and computers have taken over our lives. If you wonder why you don't feel connected to your family, think about turning off the TV or putting the phone away. Even if you do nothing beyond that, a little eye contact does wonders for the relationship.
And if your relationship with your kids is centered on screen time (whether you're playing a video game together or they're looking over your shoulder while you're on your phone), that's all the more reason to limit your screen time. Turn it off and go outside! Play catch with your son or teach your daughter how to ride a bike. Those are the things that memories are made of!
Help out
If you come home from work and the house is a mess, take that as your cue that you need to pitch in. If we seem stressed out about it, don't ask us what needs to be done. That will only make us think—and stress—about it all. If the dishwasher is full, unload it. If hampers are overflowing, sort laundry. Or just grab a broom and start sweeping. Make this your motto: don't ask; just do.
After you read this, chat with your wife about it. You may think that none of it applies to your family, but I bet at least a small portion does. If you are the one to bring it up, your wife will be honest with you. This is where it's okay to ask. Open up those lines of communication and you'll do wonders to improve your relationship with your wife and with your kids.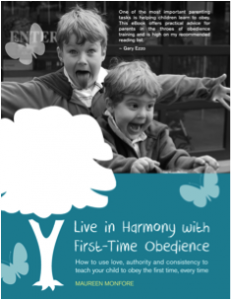 Maureen Monfore is a mother of two young boys, a freelance writer, and the author of ChildwiseChat.com and the eBook, Live in Harmony with First-Time Obedience. A loyal follower of the teachings of Gary and Anne Marie Ezzo, she is passionate about teaching children to obey to pave the way for fun, love, learning, and essential moral development.