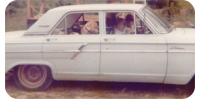 I began driving without direct adult supervision when I was age nine (9). I chauffeured my little sister (age 2) and my dog Duke all over our family's 26 acre hog farm. I was not allowed to leave the farm and venture onto the country road that we lived on, but I could drive all over the farm as long as my parents were home and I asked permission before firing up the old baby-blue 1964 Ford Fairlane. As long as I drove safe and stayed within my boundaries, I was allowed to drive the Fairlane from time-to-time.
My guess is that most rural kids learned to drive in much the same way.  You probably started learning to operate the pedals, steering wheel, and shifter in a pasture, on a quiet country road, or in a giant abandoned parking lot.  Your parent or grandparent was right there at your side providing instructions, sometimes to the point of annoying you.  You trusted their advice because you had been witnessing their safe operation of this vehicle or others first-hand for nearly a decade or more.
After a while you arrived at the age of 15 and got your "Learners Permit" by taking a written examination.  You could only drive on the street during the day with a licensed adult driver in the front seat of the car with you. Then at age 16 you were eligible to take the practical driving test. This test consisted of driving around for about an hour with some stranger who made you perform like a circus animal. For the grand finale you demonstrated your parallel parking skills.
If all went well you were given a brand new a shiny red corvette convertible with no restrictions and a gas card with an unlimited balance.  Okay, maybe not.  Instead there were still restrictions and boundaries set on when you could take mom's station wagon, where you were allowed to go, and when you had to be home. Violate any or all of the above and you might not have drove again for as long as you lived with your parents.
Safe Driving on the Internet
Training your child to use the Internet should be approached in much the same way that we were taught to drive a car:
Demonstrate safe and responsible use of technology
Start young and allow them to sit on your lap and operate the controls
Start slow in a safe place when you do give them the controls
Sit at their side and offer advice for a while
Monitor their use of the technology
Always maintain and communicate boundaries in your home
Don't be afraid to restrict access when the technology is misused
It is that simple. But don't forget the Basics of Internet Safety involves much more than teaching the skills. A trusting relationship between you and your child will make it much easier for them to receive instruction and operate within your boundaries.   The basics will also set the stage for them to return to you when they are faced with something that they don't understand or feel comfortable with while using technology.