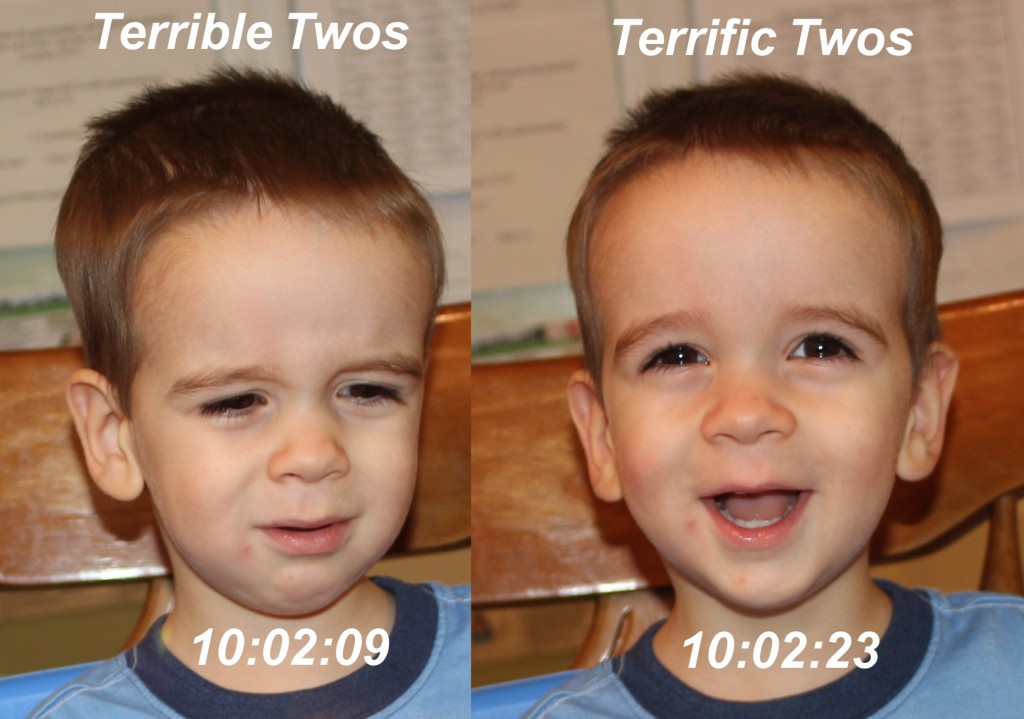 An adult that swings between terrible and terrific as often as a two year old usually ends up with a psychological diagnosis. A two year old can take you through the process of loving or despising even the thought of having more children multiple times within an hour if you rely solely on your feelings. So what do we do with these feelings? In short we need to avoid letting our feelings and emotions drive our parenting.
My wife and I were surprised when we were told by our friends Gary and Anne Marie Ezzo that the "twos" are more like a measure of a period of time between the ages of 14 and 40 months as opposed to being an age of two years old. They share this fact with parents to give them comfort in the fact that these behaviors seen during the "twos" are normal and can be experienced for a longer range of time than some parents realize. The Ezzos remind us that kids are going through some of the most dramatic changes they will experience in their entire life. These changes are social, physical, emotional, verbal, and cognitive to name a few.
The picture above represents a difference in responses from my son on his 2nd birthday during a span of 14 seconds. These little "twos" can turn on a dime and we as parents need to realize this in our child's life and prepare for it. We may want to take it personal and get frustrated or even angry, but  we must remember. It's not personal and our kids are not out to get our goat.
 There are some things we can do to make this period somewhat more predictable and pleasing.
First-Time Obedience
My friend Maureen over at Childwise Chat blogged about this subject a few days ago. First-Time Obedience (FTO) is exactly what it sounds like. You child is characterized by FTO  when they come to you when call them the first time. You should not have to count, threaten, bribe or even raise your voice. Training FTO is easier than you might think…for the child. Our friends the Ezzos tell us and we have proven the fact that parents are the ones who have a hard time learning FTO.
Self Control
We train self control this using several methods, but the most popular is to use sit time. I am not talking about a reactive time-out to a bad behavior, but a proactive process of training your child to sit for a predetermined amount of time. With the little ones we start out having them site with hands folded and legs crossed for a few seconds. We increase the length of time as the days and weeks of training pass by. Before you know it you have a two-year old who can sit for a few minutes at your request in a public place without getting up. As the Ezzos teach, one of the most important thing to remember with something like self-control training is that you can't expect your child to do in public what you have not trained in private or times of noon-conflict.
Feed the Beast
Appeal to your child's development process. Given them activities that will reach them through all of their senses. My wife likes to do things with things like sidewalk chalk. Your kids get to make a mess of the driveway and at the same time they are seeing bright colors as they feel the resistance of the chalk against the concrete as it make s very distinct sound.
Make Use of Time
Know your child's best times for going out or having friends over. There are times when having a play date with a friend is just not a good idea. Your child needs to be rested and can't be hungry if play dates are going to be successful. In most cases kids at this age have a short attention span so you should not expect your child to play nice in the sandbox with three other kids for an hour and a half while you talk with your friend. Kids need room to move.
Be Directive
It has been said a million times but we parents have such a hard time getting this one through our thick heads. As parents we must direct our little ones rather than constantly chasing them around saying "NO". Rather than be reactive to what they should not be doing we need to work on being proactive and telling our kids what they should be doing. Do these things and have more terrific moments than terrible moments.
What things do you do in parenting to bring about more terrific two days?