Caden is a very special kid with a very popular egg. This egg contains a coveted wooden chip to get a free cup cake at a local gourmet bake shop. The irony in Caden finding this egg two years in a row is that he is the only kid participating who has never swallowed…not even his own saliva. In addition to numerous heart surgeries, back surgeries, and much more, seven year old Caden has taken all of his nutrition and hydration via feeding tube since birth. Just like last year, Caden gave the wooden chip to his older brother Riley.
Our family went to this annual Easter Egg hunt with some like-minded friends who all alumni of the GFI Parenting Ministry. This is the second time the local group of parents got together to have some fun over the Easter holiday.
Caden will have back surgery later this week to adjust the VEPTR rods (pictured below) placed in September 2010 to treat scoliosis.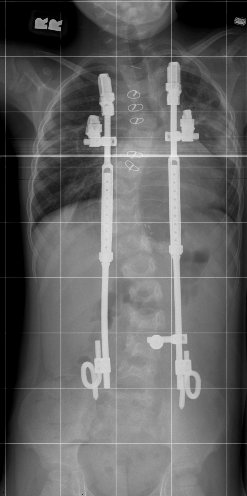 Your prayers for a rapid recovery would be appreciated.