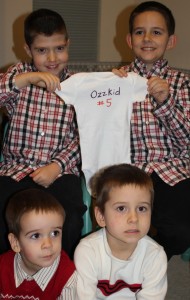 The Osborne family is growing. We expect the newest of the @OzzKids to join the fun in late July of 2013. The picture on the right was taken on Christmas Eve right after we announced to our family that we were expecting #5. We wrapped a small box with the onesie inside and then wrapped that box inside another and so on until we had it six or seven boxes deep. We passed the box in a circle while playing Jingle Bells (Levi's fav) and the person holding the box when the music stopped had to open a layer. The news seemed most surprising for Caden and Josiah. You can see in the picture that Josiah was still in shock a few minutes later when we staged this picture. Caden is shown below with his initial reaction.
I think our extended family has finally come to a point where they are no longer surprised. Most thought we were crazy for having another child after Caden given the medical challenges we still battle with him. Caden was born with a deletion of his 22nd chromosome called 22q11.2 (DiGeorge Syndrome or VCFS). This has come with a host of open heart surgeries, back surgeries, exclusive tube feeding, and much, much more. While Sherry certainly does carry a heavier load with cooking, cleaning, laundry, and home schooling, the logistics of dealing with Caden's frequent hospitalizations has really not changes much with the addition of Josiah and Levi. From the time Caden was born we had one child in the ICU and one at home that required our love and attention. Most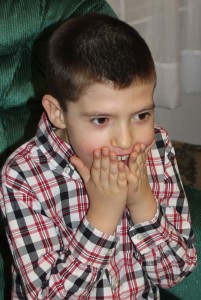 recently we have just had multiple children at home when Caden has been hospitalized. I don't expect the future to be much different with the new addition to our family when Caden has surgeries because we will still have children in two different places that need their parents. That has become a normal for our family that we have learned to live with and deal with fairly well.
So the long and the short is that we are very excited to be growing our family. We think that Bigger is Better and thank the Lord for blessing us with another child. We love all of the children God has blessed us with and can't wait to meet the newest addition to the Osborne gang. As I said earlier, the emotions have been mixed within the family. As shown here, Caden was a little surprised, but pleasantly surprised. I have decided to start telling people that we are trying for 14 kids and that is what the number on my hat represents. It is actually the number of my favorite NASCAR driver Tony Stewart, but I thought that referring to the number as the target for number of children was a great way to stifle the comments about our big family. The idea was not my own, my neighbor came up with the idea during a New Year's Eve Bingo party that Riley and I attended.
We hope you had a Merry Christmas and a trust that your New Year has begun with great joy and thanksgiving.