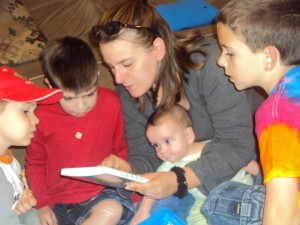 I am convinced that the root solution to many of the problems we face in our nation, in our communities, and in our churches is found at home. God has put on my heart a renewed passion for encouraging families and particularly dads. I have taken a break from this site, the podcast, and other places where I blog for several months. I have had time to reflect and seek God's guidance regarding my efforts online and offline. I am certain that I need to get back to this site and the podcast to continue to encourage, equip, and challenge dads to rise above mediocrity in marriage and parenting. It is critically important that men understand their God-given responsibility as parents to stand up and take care of their families in a way that glorifies God.
Our country continues to suffer from the lack of engagement of fathers in the lives of their children. This will only become more prominent as we Christians gain ground on the abortion front. As clinics close and more women embrace choices to raise the children that they have conceived, we have a higher possibility for more single parent homes and fatherless children.  I want to help answer the need to encourage and equip men to face their responsibilities and be there for the mothers of their children as well as the children themselves.
Another area where dads can step up is to position their family to be a single income family so that moms can stay home with the children. God has not called parents to subcontractor the training of their children. God desires for parents to instruct their own children. He specifically instructs parents to train their children in both the Old and New Testaments of the Bible. If it is the Lord's will that our children be trained by us as the parents, and it is His will as clearly described in the Bible, then He will provide a way. That does not mean we sit back and wait on an audible message or letter to come from God before we begin preparing ourselves for this counter-cultural way of raising the children that we have been blessed with. This site in partnership with the Home School Support Network will provide opportunities for families to better navigate the challenges we face in raising our kids to know, love, and trust the Lord.