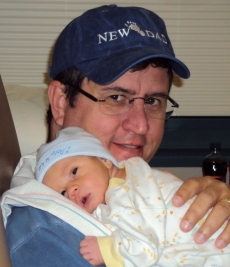 Podcast: Play in new window | Download
Subscribe: iTunes | Android | RSS
Dads are parents and they should act like it. Be weird. Be different. Be more than just a biological father to your children. Be a Daddy.
The transcript from the last half of this episode can be found posted on each of the blogs listed below on Wednesday 3/14/2012. Check them out and add them all to your RSS reader.
Babywise Friendly Networked Blogs
Giveaway – Hot off the press is the Revised and Updated edition of On Becoming Babywise.
Everyone who subscribes for the newsletter before midnight March 21, 2012 will be eligible the giveaway. The subscription form is provided below or you can use the one in the sidebar.
Thanks to Andy from the betterdadpodcast.com
Thanks to my friend Manny for his encouraging words following the last episode.
Leave feedback in the comments below or contact us via:
Daddy Life on Twitter
Voice Mail: (864) 372-9833
Subscribe to this podcast via iTunes or RSS: