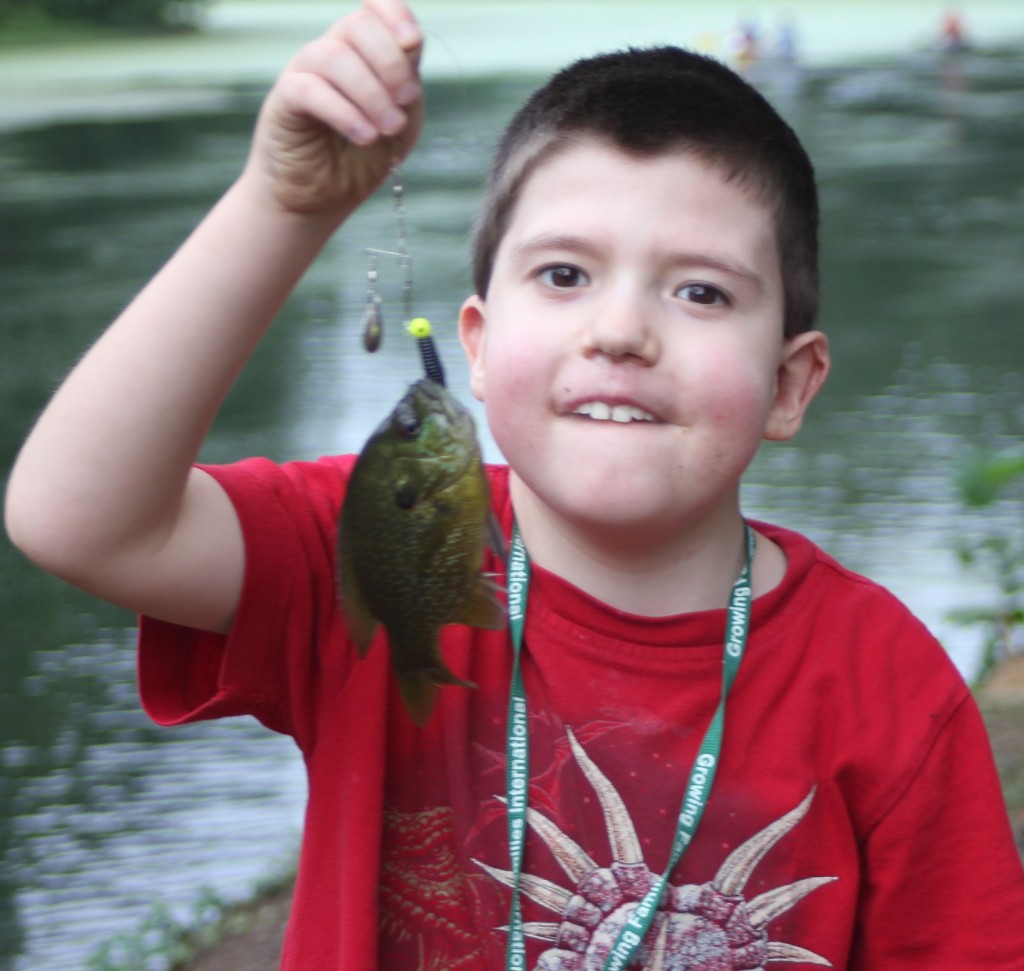 We have been home from our vacation for over a week now. This year's road trip included six of us in a minivan for about 1600 miles of driving over a period of seven days. From a medical supply perspective, during the seven day trip Caden went through more than a dozen oxygen tanks,  received nearly two dozen tube feedings, and he spent a total of almost 5 hours on The Vest®.
Now before I go into more details, I want to give a disclaimer. I am not complaining about excitement created by missing oxygen tanks or all the gear required for Caden when traveling. I am trying to educate folks on the complexities associated with moving a medically special needs child around even though he does not "look special" to many people as seen above with the first fish he caught. One of our very dearest friends mentioned that we should not have that much to pack for this trip since Levi does not need a pack-n-play any longer. That last part is true, but most folks forget or don't realize just how much gear goes along with being exclusively tube fed and having to be treated daily to prevent pneumonia and micro-aspiration due to the lack fo swallowing ability. Caden's care is not as simple as grabbing a box of tissues and a suction machine like most folks see us do when we are out and about around town.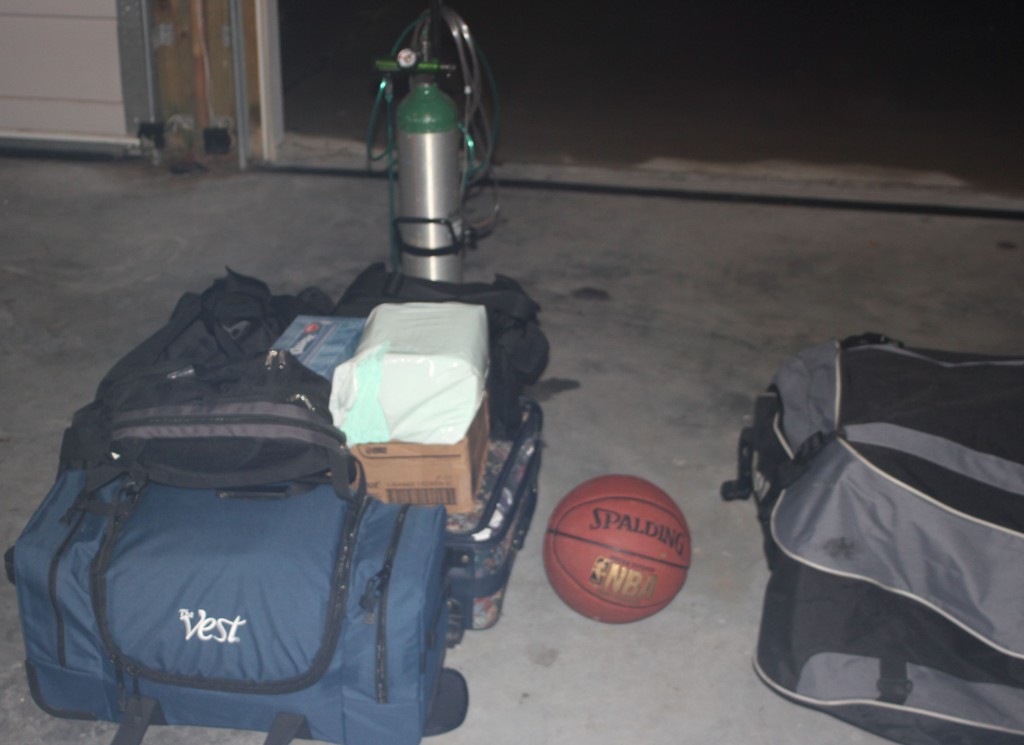 The medical equipment required for any over-night trip with Caden requires:
Tube Feeding Supplies* (Formula, feeding pump bags, a feeding pump with charger)
A spare G-Tube button
Extra feeding tube extensions
Syringes
A suction machine and charger
Oxygen Supply (1.5 liters during sleep hours)
Tissues
Bed pads
Spare linens
The Vest®
A jogging stroller (Caden does not have the stamina to walk for long, especially in the heat.)
The picture above may help put things into context. This picture includes most of the items listed above (minus three days worth of oxygen). This stuff took up the entire back storage area of our Kia Sedona van plus the floor space under Caden and Levi's feet and the stroller when on the roof. The picture does not include any clothes or toys for Caden or anyone else in the family.  The basketball was added to the picture for scale.
Now that the trip is over I realize that we might have been able to carry enough oxygen to last the full week on the road. However, it would have been a tight fit. The fear of the unknown and the thought of a possible pneumonia while on the road made me very nervous about how we might get additional oxygen for Caden while 750 miles away from our home supply (over three dozen tanks in our garage) if needed. That is where the real story of the week came in.
I went ahead called the medical supply company that we use about three weeks before our trip. They are a national company and I arranged to have enough oxygen delivered to the Twin Lakes Camp and Conference Center in Hillsboro, IN to last us through the Labor Day weekend. We arrived on the Friday before Labor Day at approximately 3:30pm. I immediately checked in with the camp director to see if the oxygen had arrived. It had not. Caden uses about two standard E bottles (one shown in picture above) of oxygen per night when a concentrator/generator is not available.  I knew we did not have enough oxygen tanks to make it through until Tuesday when the medical supply offices opened back up for business. As I mentioned earlier, we could not comfortably transport enough for an entire week while traveling and so we only had a little in reserve after one night in a hotel already. I  realized that it was late in the day on a Friday of a holiday weekend and I tried to contact the office in Lafayette, IN where the oxygen was supposed to come from. I got nothing but a busy signal after about seven attempts within a 30 minute period. At this point it was a few minutes before 4 PM and I was about to start driving to Lafayette to pick up the oxygen tanks myself when I decided to make one last attempt to contact the medical supply company via their toll-free service. I was transferred to a lady at the Kokomo, IN office which was about 20 miles further away than Lafayette. The lady calmed my nerves and assured me that she would get oxygen delivered even if it had to be done the next day on Saturday…which was fine with me since we had enough to make it through one more night. She even gave me her cell number in the event we had trouble getting what we needed. Come to find out the lady had a delivery truck in Crawfordsville which was only about 15 miles away from our location at Twin Lakes and they had the tanks on their truck that we needed. She diverted them to Twin Lakes on Friday evening (arriving after 5pm) and they gave us the tanks we needed. The two guys on the truck were super nice and seemed genuine in their efforts to help in getting the supplies we needed.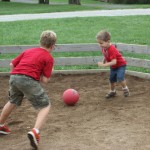 So the weekend started off on a positive note even though we had a little scare. We ended up having an outstanding time visiting with friends from all over the country for the weekend. In addition to a variety of planned activities coordinated by our friends Joey and Carla Link the boys fished and played Octaball.
We continued our vacation with a tour of the Indianapolis Motor Speedway (IMS) and then spent two nights in the Cincinnati area so that we could visit the Creation Museum. These two stops rate a blog post each so I will save that for another day. The boys loved kissing the Yard of Bricks at IMS and we we all enjoyed our fourth visit to the creation museum where we got to meet Dr. Georgia Purdom and Buddy Davis.