Post by Bethany from The Graceful Mom blog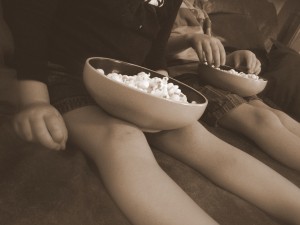 Something my husband and I have done for a few years is give each other a "free night" every week. It is a night where the other spouse gets to have a night off and use the time however he or she chooses away from home. I say "away from home" because it does not seem to work well, at least for us, to block off time at home. It just works better to get out of the house, and that is part of the gift. Some weeks we both use our "free night" and some weeks my husband uses two while I use none. It all works out in the end but it has been a very fun way to bless the other person.
Even thought it might not seem like it at first, we believe it really ties in to the Ezzo/Babywise philosophy of have a parent-directed philosophy. Our children see us prioritizing the other parent's need for some downtime, and it also gives the parent at home a fun tonight to do something a little special with our children. For instance, my husband almost always uses his night to play ultimate frisbee. Thursday nights have now become popcorn and movie night for me with the kids. They love it, I get some extra cuddle, and my husband comes home so energized. Honestly, one of the things I like the most is seeing how happy and refreshed my husband is after coming back home. I used to get so anxious about single-parenting nights…now I really, truly look forward to them. Either my husband is out exercising his heart out or I usually try to meet up with some girlfriends for dessert.
I truly believe that offering each other some downtime has been a key part of how successful our marriage has been. We do also make spending quality time together a high priority, but I have learned the value of giving my husband that special time to himself. Ironically, it makes our marriage better too. We plan these nights in advance, and it has actually been a lot of fun seeing what the other person decides to do.
I know it is hard finding one more night to set aside but I promise it is well worth it. So if you have noticed your husband or wife looking a little peaked and worn out…offer them a free night…their choice…their blessing!